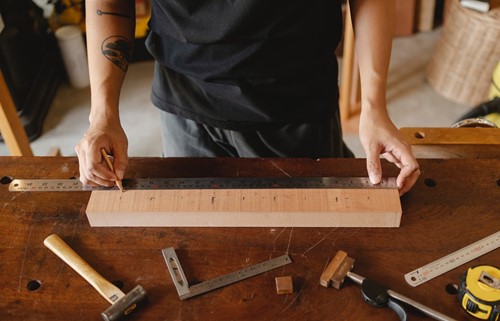 No matter the time or place, storage will always be in style. Finding attractive and efficient ways to use your space is an essential part of interior design and can even serve as its own decorative element. Wall shelving is a time-tested way to clear up floor space and add aesthetic appeal and as small spaces become more popular, more and more homeowners are looking to add more shelves. The good news is that the hottest trends in shelf design are easy to DIY. Here we will go over some of the hottest shelf trends and how to make them yourself.
Triangular Corner Shelves
Corner shelves are lifesavers in small spaces. While many retailers sell free standing corner shelves, you can create your own floating shelves for a fraction of the cost. Floating shelves have a sleek contemporary look and allow you to keep the focus on what's on the shelf instead. To maximize the space, opt for triangle shaped shelves rather than L shaped. This will allow more room for potted plants and other round or oddly shaped accessories you want to display.
To build triangular corner shelves, you will need lumber cut to the correct size. You'll also need some basic tools like a cordless drill and hammer. You can create truly floating shelves by attaching braces to studs in the walls and then attach your choice of wood cut to size. While this project requires some basic woodworking know-how, it's simple enough to accomplish in a single afternoon.
Shelves Across Windows
Another popular trend in interior shelves is hanging shelves directly in windows. This is perfect for plant lovers who want to give their plants the most sunlight possible while taking up the smallest amount of space. The most common design is to hang planks of wood with your choice of rope. For dedicated plant shelving, you can cut circular openings in to fit small pots. Otherwise, make sure whatever items you display are secure by stabilizing the shelves.
For a more permanent option, you can also build shelves directly inside the window frame. This will require power tools and a bit more effort, but having built-in shelves gives you a much sturdier alternative to the popular hanging style.
Floating Geometric Box Frame Shelves
Geometric box shelves are all the rage and they're also very easy to make. Depending on what size or shape you want, you can put them together with plywood or common pine board. One of the most popular styles is using hexagonal frames to form a honeycomb design. You can either combine them or hang them separately according to your preference. For attaching to the wall, this type of shelf offers some more freedom. You can use either D ring or sawtooth hangs even with especially light and purely decorative shelves, heavy duty command strips.
As with any crafting task it's important to consider safety both during and after your project. Think about the items you want to put on the shelves before you go about making them in order to choose the best potential materials and attachment methods.